I've been researching another of my 54mm metal yeomanry figures which I've collected in recent years. It's a figure which the family of a deceased model soldier collector was selling off and for a description they could only go on accompanying handwritten post-it note which stated; "Officer, 1898, W&C".
The figure's uniform had been very simply base-coated in readiness for more attention which, very sadly, it never received. But the colours and the W&C initials were enough to confirm to me the regiment's name – the Westmorland and Cumberland Yeomanry. The front of the sabretache does indeed have a tiny WCYC etched into it.
The identity of the manufacturer continued to elude me though, until the other day when I discovered a blog featuring a picture of it, together with a fabulous mounted version of the same figure, labelled as being West & Comb Yeo. officers c.1898 (I've since seen a version for sale listed specifically as a major). It seems my officer figure is missing his extravagant plume.
It was very nicely painted indeed by the site's blogger, Pete Armstrong. The site was for his business, Border Miniatures. Interestingly, Border Miniatures seemed to once combine the production of both railway figures and military figures. This curious dichotomy was resolved on 22nd April 2014 when Border Miniatures finally closed the military figure side of their business. I might suggest that was the wrong choice to make in the unbiased opinion of this blog! Well – okay – his engineering and paintwork on the engines is admittedly incredible. I have since discovered an old 1993 Border Miniatures catalogue online:
The trebuchet and mounted knight on the cover suggest something of the mostly medieval bias of this manufacturer.
I discovered that though the figures were mostly sculpted by Pete Armstrong, "guest sculptors may add items to the range". This resulted in the occasional collaboration with Keith Durham, a sculptor of some pedigree who has been mentioned before in connection with producing some of Mitrecap Miniatures yeomanry output. The new, more railway-focused, Border Miniatures site does include examples of Border's military figures, many of which were of larger scale (80mm). My Westmorland and Cumberland yeoman features under the 'smaller scale' 54mm and 64mm page – http://petesnewworkshop.blogspot.com/p/s.html
Border Miniatures were based in Keswick in Cumbria which explains the preference for Westmorland and Cumberland Yeomanry. I note from their catalogue that they also produced other Cumbrian / Cumberland inspired figures including a soldier from the 34th (Cumberland) Regiment in 1751 and also its precedent "Lord Lucas' Regiment" from 1702.
The Cumbrian yeoman doesn't even appear on this 1993 list but an officer of the Duke of Lancaster's Own Yeomanry does.
One possible reason for the Westmorland and Cumberland figure being absent was explained by a chance piece of information I came across. Whilst browsing in a 1983 edition of Military Modelling magazine, I discovered an advertisement featuring a photo of my same W&C yeomanry figure. It was listed as being part of a 'new range sculpted by Pete Armstrong' but, curiously, the manufacturer was shown as being Rosedale Figurines of Lancaster! Although Pete Armstrong ran Border Miniatures and sculpted that figure, it appears that he actually produced it on behalf of another manufacturer. The advertisement listing showed that the previous owner's original post-it note was correct with a code number of "05".
An eBay seller wrote this interesting summary of Rosedale Figurines:
"Rosedale Figurines were specialists in highly detailed historical and collectible figures. Well known for producing exquisite Chivalry miniatures, these miniatures are the finest Medieval-related soldiers that have ever been produced. They also produced Amazons, Monsters, Ancients, Romans, Gauls, Thermopylae Graeco-Persian Wars line, American Civil War (Duette line), 19th Century (The Hill – Custer's Last Stand), WWII (refugees).. Some of which were sculptured by the late, great Al Charles and larger ranges some of which were sculptured by Alan Ball."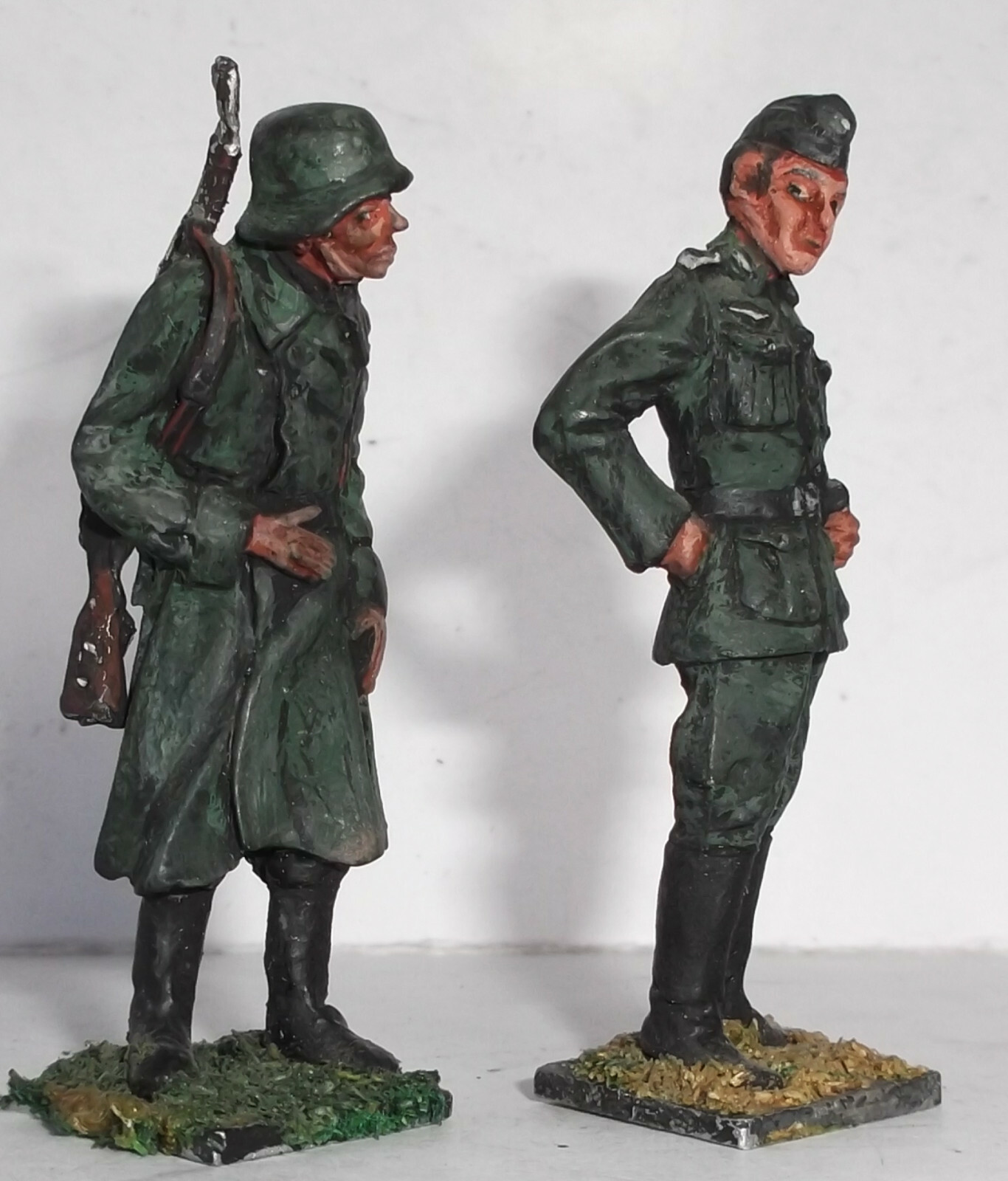 So it seems that what appeared at first to be Border Miniatures figure is really from Rosedale Figurines. Rosedale seemingly a venture that Pete Armstrong was originally involved in prior to his establishing Border Miniatures. Rosedale apparently shipped out to Australia a decade or more ago and are no longer operating.
Well, this is undeniably a very nicely sculpted figure and is one that I intend – eventually – to add to my other 54mm yeomanry figures collection on their plinths. Speaking of which, I'm working on another one of these right now! More anon.
---
UPDATE!
By chance this figure came up for auction recently, listed as being "Major, Westmorland & Cumb. Yeomanry 1898", but in a packet marked "Border Miniatures"! There was also a separate listing for the figure showing it's painting instructions with a very nice illustration of the figure, the sabretache and other details, listed at the base with "Pete Armstrong, 1983". So it seems that Pete Armstrong really did sell this figure as a Border Miniature in addition to it being sold under Rosedale banner too.